The Digital Game Plan for your business
Take up position on the digital playing field
The development of the digital economy has created countless new channels for communication. What started out as an additional marketing tool has since become an important area of investment. As a result, business owners have to be aware of many more matters than before. Analyses, causal relations, and decisions have become much more complex. But the good thing is, that also means that there is much more data you can base your decisions on.
Making decisions in digital business is often a complex and interdisciplinary affair. Decisions are thus by default interdependent and no measure can be carried out without having an effect on others. In short: If you want to compete on the digital playing field, you need a solid, tangible plan. A digital game plan.
Your advantages at one glance
Deine Vorteile auf einen Blick
Deine Vorteile auf einen Blick
Deine Vorteile auf einen Blick
Die wichtigsten Verbesserungs-vorschläge in einer übersichtlichen Liste
Detallierte Erklärungen mit Screenshots
Fokus auf die wichtigsten Themen, die sich auf Deine Markenpräsenz auswirken
Deine Vorteile auf einen Blick
Bring structure and momentum into your digital marketing strategy
We custom-make your digital game plan by defining possible digital projects and measures and prioritize them according to the following four categories:
No Brainers

are easy to implement without having to take unnecessary risks, e.g. by optimizing tracking, defining responsibilities, or building expertise.

Show Stoppers

are difficult to implement and present big risks like tracking that is non-conforming to data protection regulations or security risks within the IT infrastructure.

Game Changers

require a lot of effort and resources but at the same time present you with exciting opportunities, e.g. setting up ecommerce or establishing a new business model.

Quick Wins

are easy to implement and score results fairly quickly, e.g. the optimization of existing paid media campaigns or setting up of new ones.
If you're at the very beginning of your digital marketing journey, the last category is especially important for you. Quick Wins help you gain momentum which gets people enthusiastic about your business.
While working on your Digital Game Plan, we identify digital projects and measures and categorize them. 
Bei der Erstellung Deines Digital Game Plans identifizieren wir die digitalen Projekte und Maßnahmen und priorisieren sie anhand von 4 Kategorien.
Wer hinter dem Digital Game Plan steckt
Wir netzstrategen begleiten Dich und Dein Unternehmen in allen Phasen der digitalen Transformation und Optimierung. Gemeinsam analysieren, planen und steuern wir mit Dir, damit wir am Ende die Dinge zum Laufen bringen. Hier findest Du eine Übersicht über alle wichtigen Leistungen, mit denen wir Dich unterstützen können.
What you get from a Digital Game Plan
ike we said, the digital market is much more than just an advertising channel. In order to be successful in the digital world, your entire organization must rely on digital tools and procedures. We'll be honest with you: digitalization is not a project that will be finished within a few months. It is a continuous process of learning and transformation for you and your entire business. And your employees' expertise is extremely important here. Make sure to get a good idea of who you want to actively work with in this endeavor.
When we develop your digital game plan with you, you'll have the collected interdisciplinary expertise of our marketing, sales, and IT enthusiasts at your service. If needed, we can also consult our teams in HR, communications, or product development. The digital game plan is primarily concerned with all market-relevant issues, but it can also include internal procedures, if necessary.
The features included in your digital game plan
Developing a digital game plan must always start with an analysis of your goals and target audiences. In our digital age ruled by algorithms, knowing your target audiences is essential to not fall victim to marketing waste and messages becoming irrelevant. Your business can't afford that in the long run. To avoid these issues, we develop your digital game plan based on data-based personas. To this end, we compare your business persona's characteristics with those of your real-life target audience and identify the potentials of individual digital channels. In a nutshell: how many persons of target audience x you can reach via channel y.
In the next step we put ourselves in every single persona's shoes in order to plan their individual customer journey. In doing so, we illustrate a journey over various phases from demand generation to the use of your product or service. Along these customer journeys we can determine goals, touchpoints, measures, and specific content.
The most important push and pull measures in the Digital Game Plan.
Die wichtigsten Push & Pull Maßnahmen im Digital Game Plan, mit denen Du potentielle  Kund:innen erreichen kannst.
The disciplines involved in a digital game plan
Digitalization is the central issue you'll be dealing with when it comes to ensuring the future of your business in a safe and sustainable way. But that's a complex feat. Which is why we want to help you develop a digital game plan tailored to your needs. In this, we work closely with the most important digital disciplines:
Digital Analytics
Digital Strategy
User Experience
Content
Search
Social Media
E-Mail
Paid Media
How we carry out your digital game plan
After we've decided on the scope of the project, we'll start by analyzing the most important digital markets and touchpoints relevant to your business. We do this in the form of audits, e.g. an SEO audit, UX audit, or tracking audit.
At the same time, we'll be holding workshops to clearly define your goals and target audiences as well as the corresponding personas and customer journeys. These are then added to the results of our audits and market analyses.
In the next step, we'll categorize our findings. While No Brainers and Quick Wins can be sent straight off to development and implementation, we'll work out strategies for show stoppers and game changers in greater detail. In the end, we'll bring all of these steps together in a highly personalized digital game plan. This digital game plan serves as the key navigation tool during the implementation phase. Drop us a line if you want to learn about this process in more detail and we'll schedule a one-on-one talk!
We're not going to build you castles in the air on pretty presentation slides. Instead, we're all about coming together at eye-level and following a plan that's based on reliable data. Our "field agents" Marketing Monsters, makers99, boxwise, and hallo.digital come in whenever we need operational expertise in creating your digital game plan. To ensure a successful venture for both sides, we ask you to be open-minded, trust in us, and be proactive. We consider these values the very ground upon which successful digital businesses are built. Please see the rules of our game for more information.
The Digital Game Plan bundles all measures and projects for your optimal overview.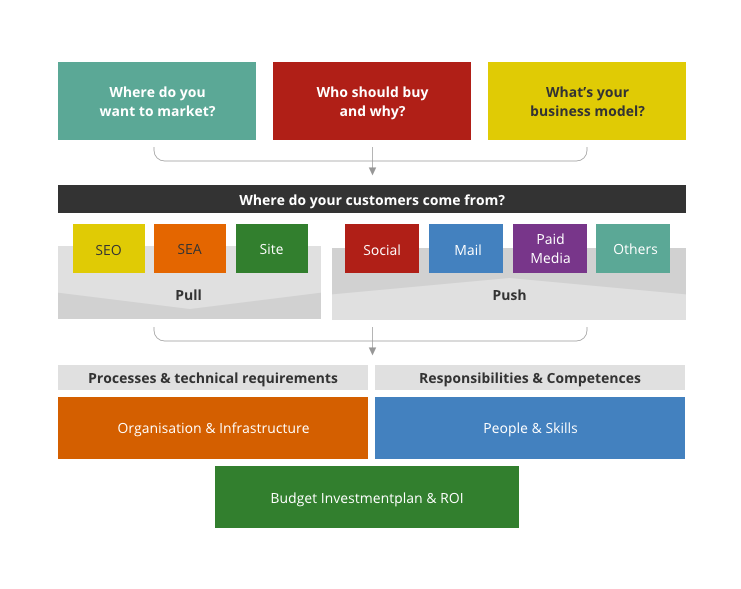 Der Digital Game Plan führt alle Maßnahmen und Projekte für einen besseren Überblick zusammen.
In your customized digital game plan, we'll include
convincing figures on

customer and sales potentials

a prioritized list of

quick win and no brainer strategies for quick results

detailed,

data-based personas
step-by-step customer journeys

for a better understanding of your customers

the well-structured

planning of your marketing and media

blueprints for your

digital dream team
 
Let's get to know each other!