Your career with netzstrategen
Take your career to the next level by joining us and our clients in our projects. You'll feel right at home!
To help our clients navigate the digital world, we work in teams of experts from different digital disciplines. After all, a good strategy must take into account all aspects of the digital world. On this page, you'll learn more about us netzstrategen: the different disciplines we work in and how we go about working together, how we bring in external collaborators, and how you can join us.
Our netzstrategen family is constantly growing and we're always happy to welcome new people into the team. Have a look at our open positions or send us a speculative application!
Didn't find quite what you were looking for?
Don't worry! We're always looking for talented, driven people. Feel free to just send us a speculative application - whether you're a freelancer or looking for a career jump.
We want you to be comfortable every step of the way. Feel free to take a closer look at our company culture, methods, benefits, and values.
Culture
Work
Benefits
Culture
Systematic onboarding
We're looking forward to welcoming you to our team! During the onboarding phase, you will be assigned a mentor to guide you through the first few months. Your mentor will give you all the support you need as you get to know our methods and start working on your first projects.
Personal growth
Let's grow together: each person individually, together as a team and as a company. To ensure our continual growth, we hold regular meetings on how to further evolve and develop our skills.
Dynamic salary model
Money rules. We don't only want to grow the company, but your salary as well. That's why we make a point to talk about it regularly and have developed a salary model that reflects salary growth.
Constructive criticism
Feedback goes both ways. We discuss critical issues in a constructive way and work out solutions as a team. We're always happy to hear your thoughts!
We are the company
While not having credits and investors, we're entirely free in what we do, every one of us is responsible for our future and success. Meaning: there are no hierarchies among us strategies. And no secrets, either.
Work
Benefits
Kultur
Strukturiertes Onboarding
Wir freuen uns auf neue Menschen im Team! Im Onboarding lernst Du unsere Prozesse kennen, arbeitest Dich in Deine ersten Projekte ein und bekommst eine:n Mentor:in an die Seite. So hast Du jederzeit die Unterstützung, die Du brauchst.

Persönliches Wachstum
Wir wachsen gemeinsam: jede Person für sich, wir gemeinsam als Team und als Unternehmen. Damit das gelingt, sprechen wir regelmäßig darüber, wie wir uns und unsere Fähigkeiten weiterentwickeln können.

Aktives Vergütungsmodell
Geld ist wichtig. Nicht nur das Unternehmen soll wachsen, sondern auch Dein Gehalt. Daher sprechen wir regelmäßig darüber und haben ein Gehaltsmodell entwickelt, das die Gehaltsentwicklung abbildet.

Konstruktives Feedback
Feedback geht in beide Richtungen. Kritische Themen werden immer konstruktiv besprochen und wir arbeiten gemeinsam an Lösungen. Deine Ideen, wie wir uns weiterentwickeln können, sind immer willkommen.

Wir sind das Unternehmen
Ohne Kredite und Investoren haben wir volle Freiheit, sind aber auch gemeinsam für Erfolg und Zukunft verantwortlich. Daher gibt es keine Hierarchien. Und keine Geheimnisse.
Arbeit
Dein Job, Deine Hardware
Damit Deine Werkzeuge perfekt auf Dich und Deine Arbeitsweise zugeschnitten sind, kannst Du dir deine Hardware selbst aussuchen – für geschäftliche und private Zwecke.

Die besten Tools
Für jede Funktion gibt es spezialisierte Tools. Für unsere Systemlandschaft haben wir die optimalen Werkzeuge miteinander verknüpft – für effiziente Teamarbeit.

Flexible Arbeitszeit und -orte
Das Wichtigste bei uns ist das Versprechen, dass sich alle um ihre Aufgaben kümmern. Wann und wo Du das machst, ist deine Entscheidung – im Büro, von Zuhause oder unterwegs.

Selbstbestimmung und Eigenverantwortung
Du bist Dein:e Chef:in. Du entscheidest, wie Du welche Aufgaben angehst und was die richtigen Wege und Schritte sind, um die definierten Ziele zu erreichen. Wir verlassen uns auf Dich.

Schnelles Feedback und Entscheidungen
Es ist frustrierend, wenn etwas die Arbeit blockiert – vor allem, wenn es an fehlenden Informationen oder Entscheidungen liegt. Daher darfst Du immer schnelles Feedback auf Deine Fragen erwarten.
Vorteile
Tolle Büros und Location
Alle unsere Büros sind großzügige und einladende Orte, an denen man sich gerne aufhält – und außerdem zentral gelegen, gut an den ÖPNV angebunden und mit Parkplätzen ausgestattet.

Zuschuss für Kinderbetreuung
Kinderbetreuung ist wichtig – aber auch teuer. Wir beteiligen uns an den Kosten, sodass Deine Kinder in guten Händen sind, während Du deiner Arbeit nachgehst.

Handyvertrag
Bei uns kannst Du von Zuhause und auch sonst überall arbeiten – also zahlen wir natürlich auch Deinen Handyvertrag, damit Du diese Freiheit auch nutzen kannst.

Getränke und Snacks
Bei uns gibt es immer verschiedene Getränke und gesunde Snacks, wenn Dich Hunger oder Durst überkommen. Und als Kaffee-Liebhaber haben wir immer leckere Kaffee-Spezialitäten in unseren Büros.

Sprachkurse
Wir sind ein internationales Team und damit jede:r mitmachen kann, bieten wir Deutsch-, Englisch- und Spanischkurse an.

Mobilität
Egal ob Firmenwagen, JobRad, BahnCard oder Monatskarte für den ÖPNV – wir kümmern uns darum, dass Du mobil bist und bleibst.
We look forward to reading your application and especially to meeting you. And we want you to be able to get a good idea of who we are and what we do, as well. Learn more about how we handle applications:
Thanks to our systematic onboarding process, you'll soon be right at home with us. From your first day, you'll have a mentor who will be your first point of contact if you have any questions. They will show you the most important things and introduce you to the entire team.
You'll have your own personal Asana project where you'll find all the information you need in the first days and weeks. Step by step, you'll get to know our tools, procedures, and methods so within a short period of time you'll be able to actively contribute to projects.
You will have regular feedback sessions with your mentor to talk about your impressions, experiences and wishes. We want you to feel comfortable and to give you the tools you need to do what you do best.
1. Application
The more detailed your application, the better. We want to learn as much as possible about you so we can set up an introductory meeting in due time. If we need anything else from you, we'll let you know.
2. Interview
We'll have a short meeting to see whether we're a good fit for each other. We'll compare our expectations to working together, as well as talk about your (work) experience and skills.
3. Trial task
In the next step, we'll give you a trial task to solve and present your findings to your future team mates so we can get a feel for your methods. You'll have about five hours to complete the task.
4. Contract details
You'll have a meeting with your future team coordinator to talk about formalities. Together, you'll determine things like your working hours and salary. You will receive a contract draft afterward.
5. Get started
After signing your contract you'll be taken straight into the onboarding phase. We'll have all your login details as well as invitations to company events ready for you on your first day for you to become a full team member right from the start.
Your career at netzstrategen
From your very first day you will be part of the team and assume responsibilities in your discipline right away. We'll support your development in regular feedback sessions during which we'll talk about our mutual goals and expectations. We will furthermore work out your personal development plan, broaden your knowledge in your respective discipline, and thus make sure you'll become and remain an expert in your field.

We rely on you to be proactive and have the ambition to make a change by bringing in your specialization in various ways. You might take up responsibility for the onboarding of new colleagues, become a project manager to be the point of contact for our clients, organize your team as a coordinator in your discipline, or help us build and manage business relationships with new brands.
Wir sprechen intern regelmäßig über Feedback und Ideen für die Zukunft. Unser Profil bei kununu ist eine prima Gelgenheit, Dir Feedback aus der Vergangenheit selbst anzusehen und den Bewerbungsprozess bei uns zu bewerten.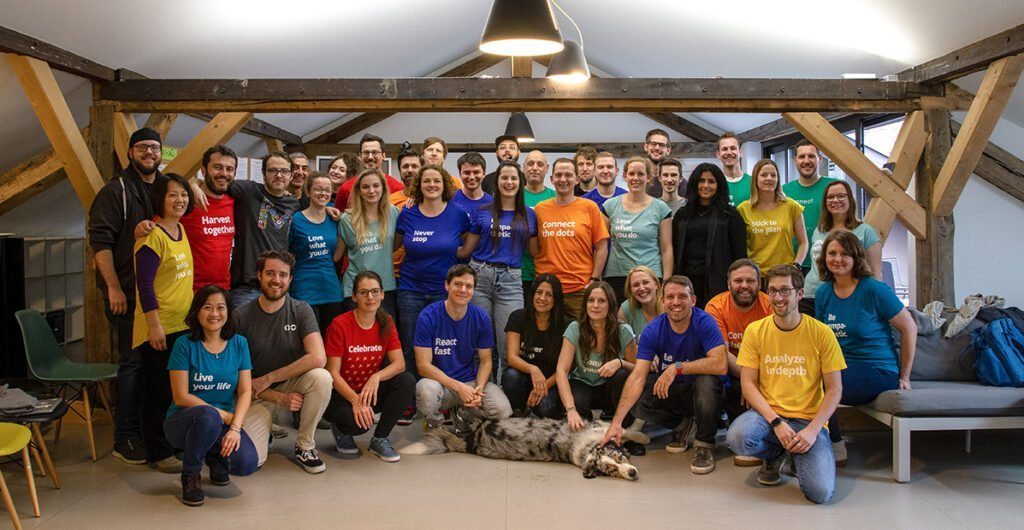 Lies, was andere bei uns begeistert
Immer wenn wir jemand Neues im Team begrüßen, löchern wir diese Person mit Fragen. Das wollen wir euch natürlich nicht vorenthalten. Kay, unser Content-Stratege erzählt im 10-Fragen-Interview über sich und seine Arbeit zwischen Content und SEO.
10 Fragen an Kay Anna Lopes
Herzlich willkommen im SEO-Team, liebe Anna! Ja genau, richtig gelesen. Wir haben ab sofort doppelte SEO-Anna-Power im Karlsruher Büro am Start. Im 10 Fragen Interview erzählt Anna von sich und ihrer Arbeit bei uns netzstrategen. Wir wünschen Dir viel Spaß beim Lesen!
We keep our promises. We communicate with each other openly and directly, bring in new ideas proactively, and work independently. This is the basis of our values and cooperation, whether it's with fellow strategists, clients, or applicants.
Twice a year, our entire team comes together in person or digitally in a two-day workshop. In these sessions, we draw up a transparent overview of the current company figures and reflect and discuss internal processes and projects. We also brainstorm new ways to strengthen our collaborative work and move the company forward in the coming year.
We live and work digitally. To cooperate more efficiently, we have built a system landscape that is perfectly tailored to us as an international team and allows everyone to collaborate. We coordinate our projects in Asana, communicate quickly and efficiently via Slack, and visualize our collected expertise internally in Notion.
Things don't always work out right away; things come up, the timing isn't right, or expectations don't quite match at a particular point in time. We're happy to add you to our talent pool and get in touch with you when we have any new opportunities that might interest you.
Our teams bring together expert knowledge from the most important digital disciplines to create and implement your personalized digital game plan. As a result, the exchange between the individual disciplines can get quite intense, so feel free to have a look around and see who it is you'll be working with.
Any open questions? Contact us!